Team Maccabi heats up the streets of Toronto
Posted on December 03, 2015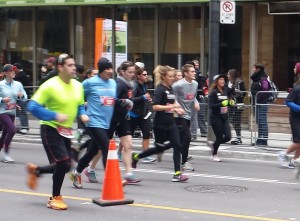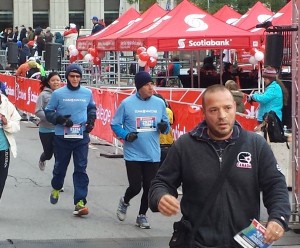 When you have a big heart and a warm spirit, it does not matter how cold it is outside.

That was the feeling of Team Maccabi's 34 runners and supporters at the 2015 Scotiabank Charity Challenge on Oct. 18. As a group and individually, Team Maccabi emitted heat on the streets of Toronto.

The Scotiabank Charity Challenge enlisted 150 charities to participate in the Scotiabank Toronto Waterfront Marathon (STWM) and fundraise towards their cause or organization. Maccabi Canada returned as an official charity, providing an opportunity for Team Maccabi to fundraise for the Adopt an Athlete campaign – a program that provides financial assistance to ensure that every qualified Canadian athlete is able to participate and compete in the Maccabiah Games, whom otherwise would not be able to attend.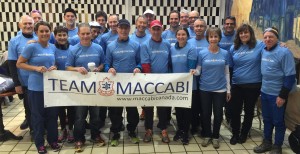 For many, the STWM events are the highlight of the road racing calendar and the culmination of months of training and personal sacrifice. More than 25,000 runners from over 50 countries compete in the different charity events and the atmosphere is always electric on race day.

Prior to the 8:00 am start, Team Maccabi met, posed for photographs and conducted pre-race stretching. The runners were pumped, primed and poised for success, with everyone feeling that being part of the Maccabi Canada organization made the day's events more meaningful and exciting, compared to running their own races individually.
"I was thrilled to again be participating as a member of Team Maccabi," said David Tepper, who coached Maccabi Canada's track and field team at the 2013 Games in Israel. "I was ecstatic to have raced a 14-second personal best, beating my previous best time from 13 years ago, when I was 27."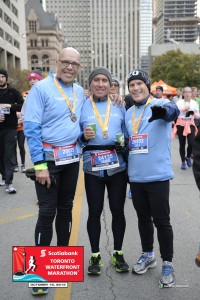 In the half-marathon, Tepper finished third in his age category and 28th overall, while Jeff Rosin and Paul David Resnick set personal bests. Issie Pelc, Bernie Sevel, Avery Karney, Giselle Bloch, Ian Abramowitz and Bruce Wulfsohn posted times of 27 and 29 minutes, respectfully, in the 5K race.
The team, all sporting Maccabi t-shirts, generated buzz and excitement, as its runners sped past appreciative supporters. Each runner crossed the finished line strong and proud to represent Maccabi Canada. Congratulations to everyone on a successful race.

Thank you to our committee for donating their time and for making the 2015 STWM a success. Thank you to our runners for their continued support. To our supporters who braved the cold temperatures to cheer on the team, we are very appreciative of your support.

For more photos visit our Facebook Album