MACCABI REP SOCCER
TORONTO & VAUGHAN
INDOOR SEASON
OCTOBER 15, 2023 - APRIL 2023

PROGRAM
AGE
DATE & TIME
LOCATION
REGISTRATION
Maccabi Canada
Rep Soccer
U9 (2014)
exceptions may apply to 2015

Training:
Tuesday 630-8pm
Wednesday 6-7pm

Games:
Sunday - Times and Field TBC

Training:
Tuesday - Viola Desmond PS
Wednesday - Nellie McClung PS


For information, tryout, or to enroll
email sports@maccabicanada.com

Maccabi Canada
Rep Soccer
U10 (2013)

Training:
Monday 6-8pm
Wednesday 7-8pm

Games:
Sunday - Times and Field TBC

Training
Monday - Anne Frank PS
Wednesday - Nellie McClung PS

For information, tryout, or to enroll
email sports@maccabicanada.com

Maccabi Canada
Rep Soccer
U12 (2011-2012)

Training:
Tuesday & Thursday
6-8pm


Games:
Sunday - Times and Field TBC

Training:
Tuesday - Anne Frank PS

Thursday - Bialik Himel Campus

For information, tryout, or to enroll email sports@maccabicanada.com
Notes:
ONTARIO SOCCER ASSOCIATION FORM click WAIVER
*Rep soccer team - tryouts may be required. A Maccabi representative will contact you with details.
**Player selection - Limited space available on team rosters. Players may not be selected to the team.
Maccabi Canada reserves the right to cancel any program due to insufficient enrollment. Minimum enrollment is 12 participants.
***Location/day/times are subject to change
For additional information or inquiries contact the Maccabi Canada office at 416-398-0515 x204 or sports@maccabicanada.com.
Experience the best in Soccer Development!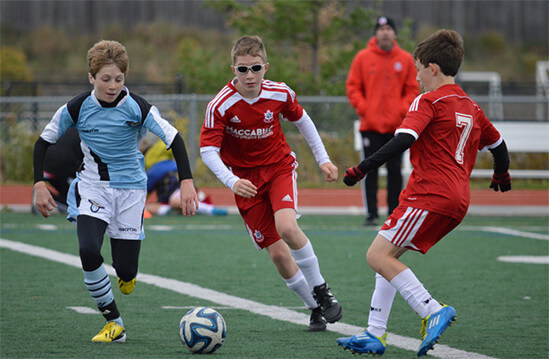 Maccabi Canada is pleased to partner with Elite Soccer Clinics to deliver the best soccer skills and development program for children in the community.
Maccabi Canada's children starting at age 2.5 will now have the opportunity to begin their love for soccer and develop their soccer skills with Elite Soccer Clinic, a feeder program to Maccabi Canada's rep soccer program.

Elite Soccer children ages 8+ will now have greater opportunities to challenge themselves, compete and progress their game when choosing to join Maccabi Canada's rep team!
This partnership offers a warm transition moving from one training program to the next.
Elite Soccer Clinics and Maccabi Canada support each other's programs and development with the overarching goal of growing your children's love for soccer within the greater community.
Coach Tomer along with both our network of coaches will work together to teach and advance the skills of all players on and off the field.