Experience the best in Soccer Development!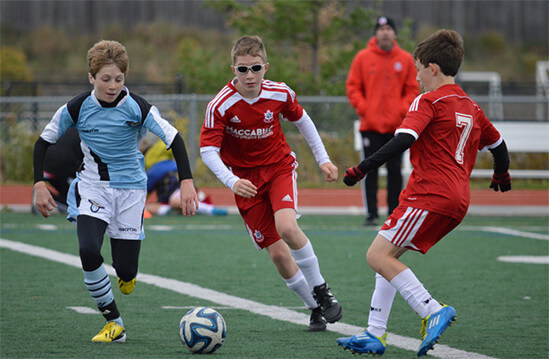 Maccabi Canada is pleased to partner with Elite Soccer Clinics to deliver the best soccer skills and development program for children in the community.
Maccabi Canada's children starting at age 2.5 will now have the opportunity to begin their love for soccer and develop their soccer skills with Elite Soccer Clinic, a feeder program to Maccabi Canada's rep soccer program. Elite Soccer clinics offers training from 2.5 - 18 years of age.

Elite Soccer children ages 8+ will now have greater opportunities to challenge themselves, compete and progress their game when choosing to join Maccabi Canada's rep team!
This partnership offers a warm transition moving from one training program to the next.
Elite Soccer Clinics and Maccabi Canada support each other's programs and development with the overarching goal of growing your children's love for soccer within the greater community.
Coach Tomer Chencinski is the founder of Elite Soccer Clinics and lead coach for Maccabi Canada's Rep Soccer program, currently the head coach for the U12 team. He brings a wealth of soccer coaching experience with a UEFA A and B coaching license and more than 15 years coaching children and youth. Coach Tomer is a former professional soccer player with over 10 years of professional playing experience in North America and Europe, including Toronto FC, Maccabi Tel Aviv, Helsingborg IF and Shamrock Rovers, and the Canadian National Men's Soccer Team to name a few.
Coach Tomer along with both our network of coaches will work together to teach and advance the skills of all players on and off the field.
Program details:
Elite Soccer Clinics - Soccer Skill Development runs in 8 session blocks. Fall block starts October
Maccabi Rep Soccer outdoor season runs from May 2022 to September 2022
COVID-19 Vaccine Updates visit Maccabi Canada's Health and Safety Policies
2022 Outdoor Season
TORONTO & VAUGHAN
MACCABI REP SOCCER starts May 2022
PROGRAM
AGE
DATE & TIME
LOCATION
REGISTRATION
Maccabi Canada
Rep Soccer
U9 (2013-2014)

Tuesday:
Wednesday:

Thursday: Games

Training: Joseph Aaron Field

For information or to register
Click HERE

Maccabi Canada
Rep Soccer
U2 (2010/2011)

Monday: Training /Game Night
Tuesday:
Thursday:

Training & Home Games
Worth Field

For information or to register

Click HERE
Note:
ONTARIO SOCCER ASSOCIATION FORM click WAIVER
*Limited space available in all programs. Maccabi Canada reserves the right to cancel any class due to insufficient enrollment. Minimum enrollment is 12 participants.
**Rep soccer team - tryouts may be required
*** Location/time are subject to change
For additional information or inquiries contact the Maccabi Canada office at 416-398-0515 x204 or sports@maccabicanada.com.