From the pitch to the sidelines
Posted on December 08, 2015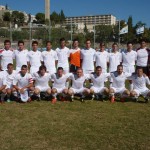 Ilya Orlov has moved from the soccer pitch to the sidelines.

A member of the bronze medal-winning open men's soccer team at the 2013 Maccabiah Games in Israel, the former Maccabi athlete has redirected his passion and competitive experience into coaching. Fresh off his first season as an assistant coach with the University of Toronto Varsity Blues men's squad, Orlov also works extensively at the grassroots level, dedicating time to Maccabi Canada by running soccer clinics in Jewish day schools throughout the year.

Giving back to youth has provided him with a new appreciation for a different side of the game.

"Working with young kids is something I do pretty much on a daily basis now," said Orlov, after a recent clinic at Leo Baeck Day School, where the focus was on dribbling and passing fundamentals. "I know how much I enjoy sports and the connection to Israel can be a positive thing for these young kids. Some of them may never end up playing at that level. But some of them might pick up the sport, enjoy it and move forward, and have some of the experiences that I have."

And there are plenty.


This season at U of T, Orlov helped lead the Varsity Blues to a third-place finish in Ontario University Athletics (OUA), and a berth at the Canadian Interuniversity Sport (CIS) Final 8 championship for the first time since 2010.

That year, he won a CIS title as a student-athlete with the York Lions, where he was named an OUA first-team all-star in his first of three seasons. The following summer, Orlov travelled Shenzhen, China, to play for the Canadian men's team at the 2011 International University Sports Federation (FISU) Summer Universiade. He also played in Sao Paulo, Brazil at the 2009 Pan American Maccabi Games.

It's these moments playing abroad that the 27-year-old draws on, as he's embarked on his coaching career, whether he's teaching university players, or children in the Jewish community.

"Coaching is completely different than playing, it's a completely different world," said Orlov. "We always say in coaching 'You don't coach soccer players. You coach people that play soccer.' And being in all these different countries and having these different experiences have helped me connect with people in a way that I probably wouldn't be able to find."

Orlov has completed his UEFA B coaching license, and intends to pursue his UEFA A designation in Belfast, Northern Ireland, which is recognized worldwide. This is the second year he's coached Maccabi Canada's school clinic, in addition to the Maccabi rep teams he also oversees. Orlov hopes it leads to an opportunity with one of Maccabi Canada's junior squads – either the Under-16 or Under-18 team – at the next Maccabi Games in 2017.

Jason Mausberg, a Maccabi veteran and Orlov's teammate in Israel two years ago, has seen first-hand his dedication with young soccer players, having invited him to coach some of his youth teams.

"Ilya has taken an extreme attitude towards becoming a student of the game, trying to learn as much as he can. Wherever he can find information or gain knowledge through others, he's complete immersed himself in it," said Mausberg, noting that Orlov travels to Europe to volunteer in professional environments. "A lot of soccer coaches just show up, get their coaching credentials, and are off to the races".

Mausberg notices a difference in Orlov, and uses him in a unique role, as a "European-professionally based trainer," who is up to date with top training regimens being used in Europe. But for all the knowledge he's gained, the former midfielder insists the key remains connecting with the human side of each player.

"It doesn't matter if you're working with an eight-year-old boy or girl that's just starting out, or a professional player, it's about improving and seeing improvement of each player, both as soccer players and as a person," said Orlov. "And if you work for long enough with a certain player, and you do it in the correct way, you see the young person grow and become better in soccer and as a person."