Governor General honours a Maccabi Athlete
Posted on December 03, 2015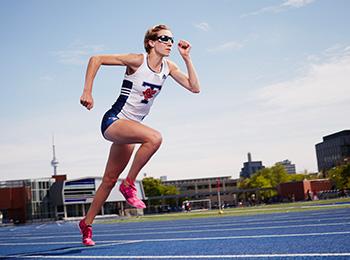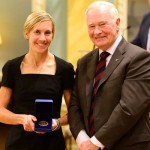 Credit: Sgt Ronald Duchesne, Rideau Hall, OSGG

The Pan American Games bronze medalist and Maccabi Games champion was honoured in Ottawa Nov. 16, alongside seven other student-athletes as one of the top eight Academic All-Canadians.

The award recognizes Gollish for her strong year, both in the classroom and on the track.

Out of over 3,100 students honoured by Canadian Interuniversity Sport (CIS) for an academic average over 80 per cent, the Toronto native was chosen as the lone female Ontario University Athletics (OUA) representative.

It was a pleasant surprise for the 33-year-old PhD student.

"I emailed the athletic director back and said 'Do you actually have the right person?'" said Gollish. "I actually didn't really believe that I would have top athletic and academic endeavours combined together."

The eight students selected – a male and female from each of the four CIS regional conferences – had the special honour of meeting Governor General David Johnston, who presented the athletes with their awards at Rideau Hall.

"What an honour it was to meet the Governor General," said Gollish. "For someone who plays such an important role in this country, to take the time not only to recognize the eight of us, but to individually sign the 3,000 certificates for all the Academic All-Canadians. I was really humbled by him."

As a student pursuing her PhD in civil engineering, Gollish earned her second CIS Academic All-Canadian honour by maintaining straight A's in the winter semester.

Athletically she was named the female MVP at both the OUA and CIS track championships last season, leading the University of Toronto to their first national title since 1998. She won five medals at the CIS championships, three gold and two silver.