Community Sports - Maccabi's developmental programs
Posted on December 22, 2015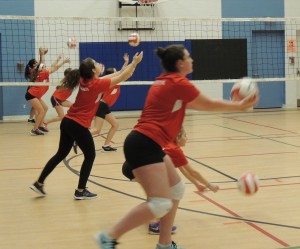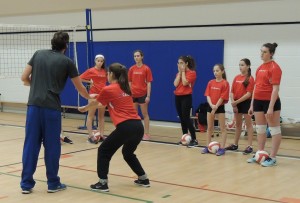 By Alan Hudes ; Photography Michele Bass
Maccabi Canada has launched its community sports programming.

Coached by former varsity athletes Josh Shermer and Nicole Currie, the first developmental volleyball program was introduced this past fall, with a focus on introducing the basic skills of the game to our youth.

"We're trying to go out and do some grassroots development," said Tommy Bacher, president of Maccabi Canada. "We believe that's an important thing because there are lots of kids who are not these elite athletes, and we have the ability to get them involved in sports."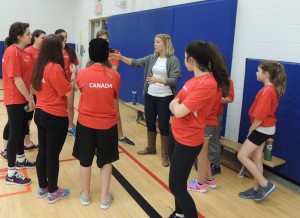 Over the course of eight weeks, over 20 participants aged 9-14 took part, practicing passing, setting, bumping, serving and spiking. The program ran in two separate locations – Associated Hebrew Schools Danilack campus and Anne Frank Public School – culminating in a Dec. 16 exhibition game.

The two coaches bring a combination of Maccabi and club volleyball experience, in addition to their university careers.

For Shermer, volleyball runs in the family. The 26-year-old played three seasons split between the University of Toronto and Humber College, where his brothers, Elie and Daniel, have also been part of the men's volleyball program. The three brothers competed together for the open men's team at the 2009 Maccabiah Games, with Josh and Daniel returning to play in 2013, and Elie as coach of the junior girls' squad.

Giving back, Josh felt, is an opportunity he couldn't pass up.

"It's great that for Maccabi now, there's a focus on building up the youth base to possibly feed into the adult Maccabi program," said Josh, who won a silver medal with the open team two years ago. "When I was growing up, there was no junior Maccabi. The fact that we have this program now and I can be a part of helping it grow and spreading the sport is awesome, especially in the Jewish community."

Currie, meanwhile, is a dual-sport athlete, who played for the Wilfrid Laurier Golden Hawks women's soccer team from 2008-12. Now an assistant coach with the Aurora Storm Volleyball Club, she's excited to be back on the court, teaching the game.

"It's (about) getting out there, getting involved and learning to work with others and learning how to deal with winning and losing," said Currie. "Those are big things in life…I've been playing sports since I could walk and that's a huge part of who I am and how I've developed into the character I have today."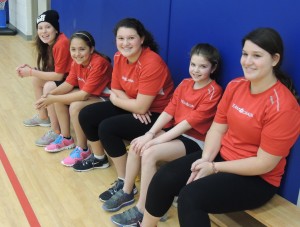 In particular, Currie noticed the group's enthusiasm coming to the gym each week. Bacher, who attended sessions throughout the program, including the final game, agreed.

"The most lasting image…was every time they stopped to rotate on – they were coming on with smiles," said Bacher. "One girl was dancing onto the court. Everybody was there for each other, helping each other out and cheering."
Maccabi Canada also ran clinics in volleyball, basketball and soccer, enhancing the sports programs of Leo Baeck Day School's two campuses this past fall. The clinics featured a variety of experienced coaches, including Ilya Orlov, an assistant coach with the University of Toronto men's soccer team, Humber College assistant volleyball coach Mack Robertson, and Andre Serero, the head coach of Canada's junior boys' basketball team at the 2015 European Maccabi Games in Berlin.

The developmental volleyball program returns the week of Jan. 11, with beginner, and new intermediate and advanced levels available. A developmental basketball program will also be offered for the first time, with both coed and separate boys and girls sessions.