Maccabi Canada's National Jewish Hockey Tournament 2017
Posted on March 17, 2017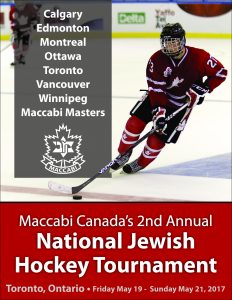 Maccabi Canada second Annual National Jewish Hockey Tournament to be held in
Toronto May 19 – 21, 2017

The event will host teams from across the country and the Maccabi Masters team. The weekend will include a Shabbat dinner and social activities. Each team is guaranteed three round robin games. The top four teams will advance into a single elimination playoff.

For more information please contact the Tournament organizer Morrie Frydberg at morriefrydberg@hotmail.com or (647) 393-9031

Tournament Schedule and Information – Coming Soon.
Please read event FAQ's HERE.
Registration coming soon.