Table Tennis Serves into 2015
Posted on January 08, 2015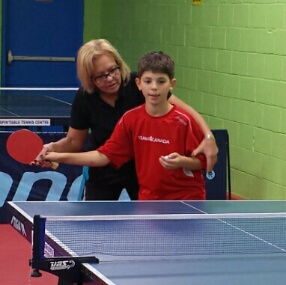 Maccabi Canada is fostering development sports programs with the goal of developing young athletes. This program will provide these athletes the opportunity to play sports in a Jewish environment under high level coaching and under the Maccabi banner. The coaches selected to lead the programs have excelled in their sport as athletes and/or as coaches.

The Maccabi Table Tennis program, launched in the fall of 2014, is one of the programs offered.

Aimed at children and youth from ages 8 to 16, the program teaches skills, builds endurance, develops muscle strength, helps master foot work and enhances eye hand co-ordination.

"Athletes are invited to partake in the tournaments as they are a vital element of an athlete's training boosting one's confidence, game play and instills team work" says Elena Shkrab, head coach for the Maccabi Table Tennis program and founder and Head Coach of the TOP SPIN Table Tennis Centre. With over 35 years of experience as a player and professional coaching, Elena was the National Table Tennis Champion in both Ukraine and Israel and coached of the Israeli National Team.

While on a family vacation, AJ Goldsmith (12) took a liking to table tennis. He signed up for the Maccabi Table Tennis program in September 2014 for one class a week. After two weeks he signed up for twice a week. "I'm having a lot of fun playing and I look forward to the lessons and what new skills we will learn. I am aiming to participate in a Maccabiah Games and compete at the same time as my dad".

AJ and his father, Stephen, signed up to participate in the family in-house tournament. The tournament exposed AJ to the elements of competing and team work. AJ took the skills he learned and applied them not only to his game but to his partner. "I had no formal training in table tennis, and AJ was able to give me tips prior to the start and during play which really helped me improve my game. It was truly an exciting experience. It added a whole new element to the father/son dynamic" said Stephen.

"Part of me was rooting for him as a father, and part of me was rooting for him as a teammate, and another part of me was worried that I would disappoint him as a teammate if I didn't do well! It ratcheted up the excitement of playing sports competitively".

The Maccabi sports developmental program hopes to help boost the popularity of sports such as table tennis, volleyball, cricket and softball, in addition to increasing the numbers of Jewish players in these and other sports.

Stephen, a past Maccabiah athlete, has shared his experiences with his son. "I think AJ wants to feel the same highs and lows I have talked about from being part of a team, playing for your country, being part of the Jewish experience that surrounds the Games, and, probably most of all, winning a gold medal."
"Having said that, how great would it be if we could both go to compete in the same games (AJ as a Junior or Open, and me as a Master) so we could cheer each other on and experience being part of the Canadian team together in Chile or Israel? It won't necessarily make me more proud, but I can't think of a more exciting experience for a parent" added Stephen.
The game of Table Tennis is challenging and fun all wrapped around a 9 foot table. "When I played in the tournament with AJ I was amazed at how tired I was at the end – when you play table tennis competitively, it's actually quite a workout".
Maccabi Canada is increasing its presence and outreach into the community across the country, with the hope of developing Jewish sports and Jewish athletes under the best known brand. For more information about this and other programs click HERE or contact our office.