Tribute to Jack Fireman
Posted on October 13, 2020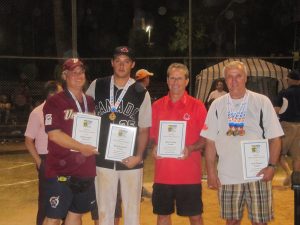 Today the softball world lost a very special guy, ISC Fastpitch and Maccabi Canada Hall of Famer Jack J Fireman.
A fierce litigator, founder of the Toronto Gators and huge supporter of Maccabi Softball, Jack's love of ball and sports was a driving force in his life, only bested by his insatiable drive to win. Anyone who knew Jack, knew this. After winning two ISC world championships and three Canadian National championships with his beloved Toronto Gators, he jumped on board the Maccabi program in 1997. I played for Jack on the Gators from its inception in 1992, one of the greatest honours of my life. But I had also competed in the Maccabi softball program (1989 and 1993) and I just knew Jack would love it. And he did. In typical Jack fashion, he wasn't interested in passive sponsorship. He needed to do it the Fireman way. He brought in new players, new sponsors and a new life to the program and sport. Eventually he extended his support to the women's softball program. And when "his boys" were getting too old to compete at the open level, he knew the only thing to do was to add a master's team. Thanks in large part to Jack Fireman, the softball competition in Israel now includes three Canadian divisions consistently competing for gold medals.
While Jack loved a good steak, a lavish Broadway musical and JFK, nothing made him happier than sitting around a dusty diamond watching his beloved teams compete, anytime, anywhere. He never missed a game when his team was playing. But a quiet bystander he wasn't. He needed to share the experience and knowledge of the sport he loved so much. It could have come in the form of a batting tip or just a simple word of encouragement, but whatever it was, it always came from the right place.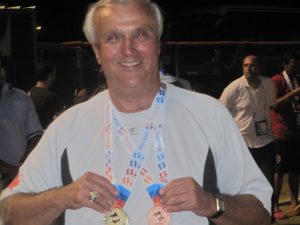 While he has earned more medals and accolades than we can count, including the induction of The Gators into the Canadian Softball Hall of Fame, I know he'd agree that his greatest successes were the bonds he forged throughout his softball tenure. The teams that Jack built were as full of talent as they were bound by friendships of a lifetime. The soul and character of our teams came from the top, and permeated deeply. He ran his teams professionally yet treated each player like family. Whether you were the star or the rook, he gave us all the same respect and generosity.
Jack, your legacy will live on in all the lives and fields you've touched. Your players, coaches and managers all knew that you had their back's and it was you that inspired us to go the extra mile for each other, on and off the field.
You will be missed and thought about every time we lace up our cleats and step between the lines, to play the game we all love…
Your life-long friend
- Bobby Green, #77